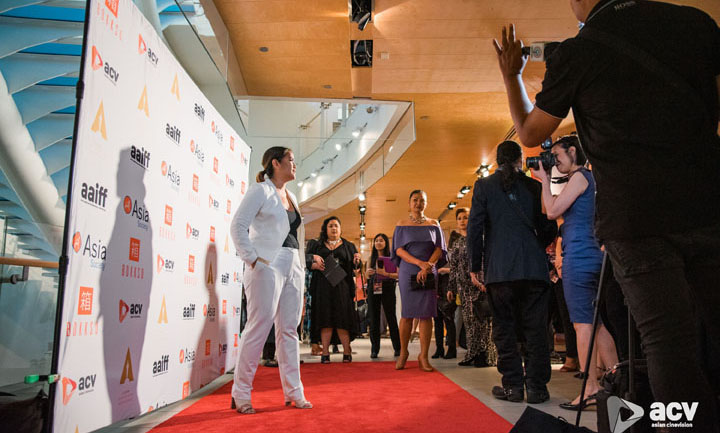 About
Established in 1978 by Asian CineVision, the Asian American International Film Festival is the nation's first and longest running festival of its kind and the premier showcase for the best independent Asian, Asian diaspora and Pacific Islander cinema. AAIFF is committed to film and media as a tool for social change and to supporting diversity and inclusion in the media arts.
Asian CineVision (ACV) is a 501(c)(3) media arts nonprofit devoted to the development, exhibition, promotion, and preservation of Asian and Asian American experiences through storytelling. Our mission is to nurture and grow the community of makers and enthusiasts of Asian and Asian American independent film, television, and digital.
History
The first annual Asian American International Film Festival (AAIFF) opened in 1978 at the Henry Street Settlement in New York City's Lower East Side. Since then, AAIFF has screened films from all over the world, representing 20-plus countries.
AAIFF has provided the U.S. premieres of acclaimed film directors including Wayne Wang, Mira Nair, Marilou Diaz-Abaya, and Ang Lee. We've hosted films from well-known filmmakers to emerging artists. Even as it has grown in size, AAIFF remains true to its core mission of representing stories and storytellers from the Asian diaspora. Join us, this year, as we bring these powerful stories to the screens in your home in our first online edition of the film festival.
Board & Staff
Daniel Chen
Philip Lam
Judy Lei
Cecilia R. Mejia
Wynn Salisch
John Woo
Leadership
ACV Executive Director
ACV Associate Director – Head of Partnerships
ACV Programs/Festival Director
John Woo
Eunice Chen
Kayla Wong
Development & Community Partners
Development Manager
Associate Development Managers
Taha Long
Betty Chen
Young Chen
Marketing & Public Relations
Email Marketing Lead
Email Marketing Coordinator
PR Lead
PR Coordinators

Social Media Coordinator
Anna Fong
Amanda La
Manykhoth Thosy
Sowang Kundeling
Operations
Operations Manager
HR Manager
Administrative Manager
Operations/Box Office Consultant
Production Consultant
Elizabeth Bigelow
Beryl Lin
Christopher Gultiano
David Rances
Beau Blumenthal
Operations Associates

Box Office Coordinator
Print Traffic Coordinator
Cailin Chang
David Wu
Shuyuan Liu
Michael Mejia
Production Manager
Production Assistants

Broadcast Technician
Broadcast Technician
Broadcast Technician
Emily Walker
Andrew Park
Fred Seo
Vincy Chan
Michelle Pham
Vincent Tsang
Venue Manager
Events Manager
Events Coordinator
Events Assistant
Tiffany Bai
Yu Hai Shen
Claire Yoo
Clara Cheung
Creative
Graphic Designers



Motion Graphic Designers

Hannah Rose Cooper
Natalie Romdenne
Shing-Hay Wong

Suejee Lee
Siwen "Candy" Sui
Lead Software Engineer
Web Developer
UX Design Consultant
UX Designer
Dennis Hu
Andy Do
Arnold Bustamante
Marek Matthew Getter
Programming
Programming Co-Managers

Programming Consultant
Programming Assistant
Kris Montello
Annie Ning
Wynton Wong
Helen Bui
Festival Film Programmers
Milisa Burke
Joy Jihyun Jeong
Craig Nisperos
Harsh Pundit
Screeners Committee
Suejee Lee
Isabella Nicdao
Elyse Wang

CineVue
Managing Editor

Staff Writers
Kyubin Kim
Jeremy Lim
Huizhu (Lulu) Pan
Aditya (Deets) Sharma
Kano Umezaki