Jurors & Awards
AAIFF 2020 jurors will be announced soon.
Jury Presented Awards
Emerging Director in Narrative Feature
Emerging Director in Documentary Feature
Excellence in Narrative Short Filmmaking
Excellence in Documentary Short Filmmaking
One to Watch Youth Filmmaker
Asian American International Screenplay Competition (AAISC)
Excellence in Music Videos
Excellence in Digital/Episodic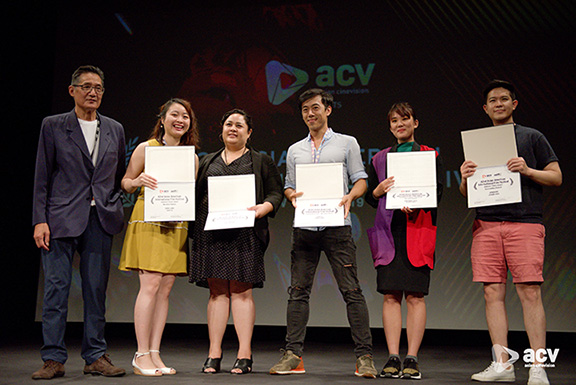 By Audience Votes
Audience Award: Narrative Feature
Audience Award: Documentary Feature
Audience Award: Narrative Short
Audience Award: Documentary Short
Additionally, AAIFF presents The Asian American Media Award and the Asian Media Humanitarian Award to those who have contributed significantly to Asian American media. Since its inception in 1987, recipients have included:
Wayne Wang (1987); Loni Dong (1988); Christine Choy (1989), James Yee (1990), Steven Okazaki (1991); Mira Nair (1992), Ang Lee (1993); Joan Chen (1994); Kayo Hatta and Freida Lee Mock (1995), Russell Wong (1996); Jessica Yu and Arthur Dong (1997), Michelle Yeoh (1998); Sammo Hung (1999); Andy Lau (2000); Tamlyn Tomita (2001); Marilou Diaz-Abaya (2002); Jet Li and Maggie Cheung (2005); Janet Yang (2012); Kara Wai (2016); and Justin Chon (2017).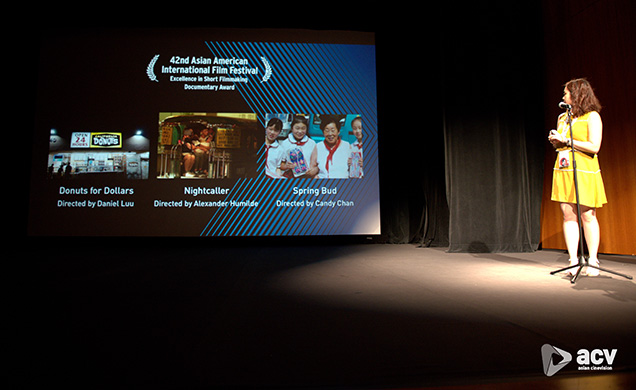 2019 Award Winners
Special Jury Prize: Diane Paragas, Yellow Rose
AAISC42/SAG-AFTRA Screenplay Award: Angela Cheng, Trouble to the Herd
Emerging Director Narrative Feature: Leon He, Song Lang
Emerging Director Documentary Feature: Tenzin Phuntsog & Joy Dietrich, Rituals of Resistance
Excellence in Short Filmmaking Documentary: Alexander Humilde, Nightcaller
Excellence in Short Filmmaking Narrative: Angela Chen, Our Home Here
For Youth By Youth One To Watch: Carol Nguyen, Tundra
Excellence in Episodic/Digital: Amanda Madden, Mercy Mistress
Excellence in Music Videos: Kenzo K. Le & Natalie A. Cho, Tether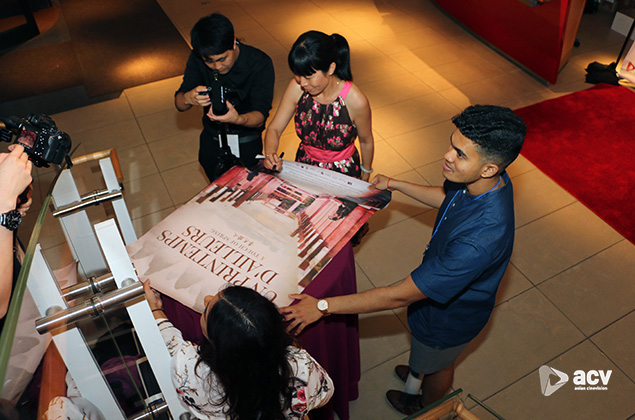 2018 Award Winners
Emerging Director Narrative Feature: Xiaodan He, A Touch of Spring
Emerging Director Documentary Feature: Bing Liu, Minding the Gap
Excellence in Short Filmmaking: Feng-I Roan, Jie Jie
For Youth One To Watch: Chelsea Penello, Kill Green
AAISC Screenplay Competition: William Yu, Love You, Charlie
Audience Award Documentary Feature: Leon Lee, Letter From Masanjia
Audience Award Narrative Feature: Alex Chiu, For Izzy
Audience Award Short Film: Hye Yun Park, Soojung Dreams of Fiji